The Magnificent 7 Cats are a beautiful family of felines a living in a quiet part of London called Putney with their mom and dad, Sasha and Steven.

To date they've racked up over a million Facebook fans, and Cats vs Cancer recently scored exclusive interviews with each of them. Below is the first in a series of adorable profiles you won't want to miss.
Our first subject was Tomerine, a pure-bred seal-point Persian, who loves cheese, and cuddling in his mom or dad's arms.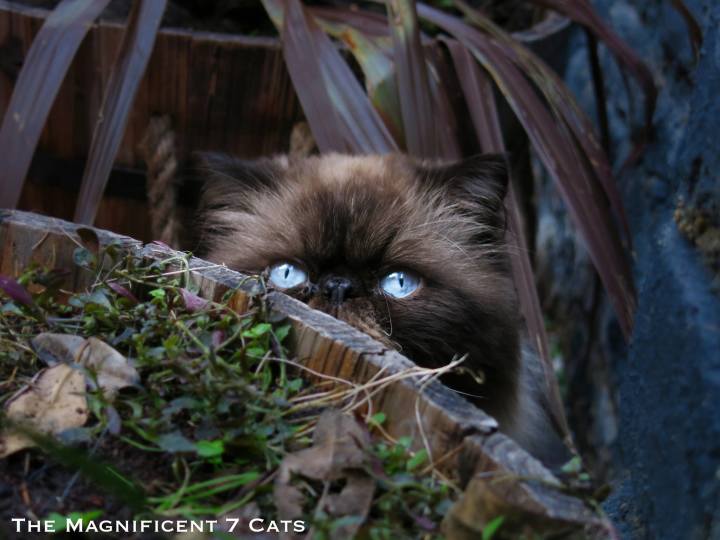 Cats vs Cancer: So Tomerine, We've heard it was love at first sight when you met Steven and Sasha. Is that true?
Tom: You can call me Tom, you know. Most people call me Tom. Or Tommy. Or TC. I think that's because Tomerine (that's Tom-er-eeny) is quite an unusual name; even for a cat. And I'm a cat so I know things like that. Did you know that there's an angel called Tomerine? When Mom and Dad first came to see me in the house where I was born, I just knew they were coming – even before they arrived. Cats are very good at knowing things and I think humans should pay more attention to us.
Mom and Dad were laughing and smiling so much it made me feel giddy! I just thought 'here they are!'. I left the litter and ran straight across the carpet to Dad. I did my best 'how do you do' look (Mom and Dad call it my googly face). I don't think they realise how much effort that face takes! I was trying my best to send them loving thoughts and willing them to pick me. I'm not sure Dad got it though. He sometimes has this far-away look in his eye and I don't think he was concentrating on me enough. So I did my best trick. I rolled over onto my back with my paws in the air for Dad to tickle my tummy. Boom! That did the trick. Mom and Dad laughed so much and I felt a such warm glow all over my body. I knew I'd found my people.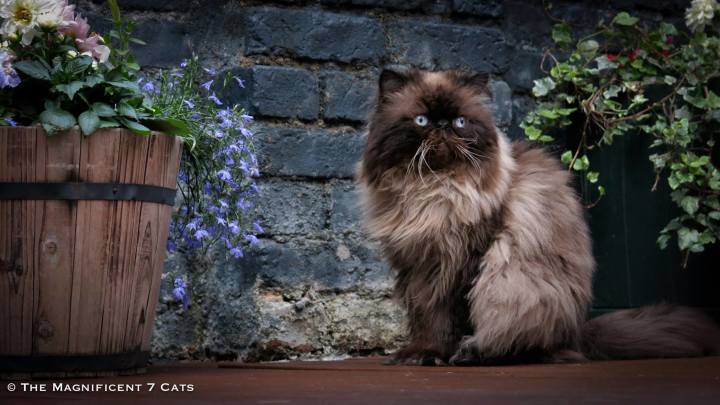 CvC: It's no secret that you love to snuggle. Do you ever find that your siblings get jealous? Do you feel like you're the favorite on the Mag 7?
Tom: You're right, I do love to snuggle; it's one of my favourite things. When I want a snuggle I have a special meow. My people understand this now (finally!). But you have to remember that I have to be in the mood. Sometimes Mom picks me up and keeps kissing my cheeks and my head and my nose. My nose! She ALWAYS does that and it drives me nuts. Sometimes I turn my face away and look at Dad for help but it usually doesn't work. I like Dad to cuddle me in the morning before he gets in the shower. Just as he's about to step in, I run into the bathroom and give a big meow. He always picks me up and tickles my tummy and lets me look at myself in the mirror. I do my best purr which Dad says sounds like a pigeon. I don't know what a pigeon is. Is a pigeon like a pig? I don't think I sound like a pig. Ugs sounds a bit like a pig. I don't think Ugs is a pigeon, though.
I just remembered you asked me about the other M7 cats getting jealous. I don't think so because I think they know that I'm cutest and that cuddles are just part of the deal. Actually, Prince can get a bit needy at night and likes to hog Mom and Dad but I don't mind so much. Particularly because Prince is enormous and I suspect complaining wouldn't be good for my health. Prince has confirmed this.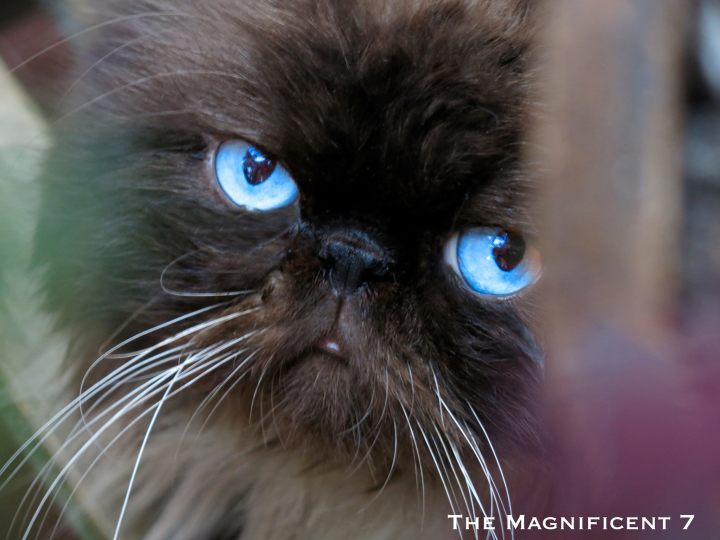 CvC: Tell us about your love of cheese. Did it just happen out of the blue one day, or did you slowly find that you couldn't get enough?
Tom: Hmm. Now let me think. Cheese is me and I am cheese. I remember the day when Dad was cutting-up some cheese in the kitchen. I could smell it so strongly and my mouth started to water. I know it doesn't sound right for a cat to dribble but I couldn't help it; it smelt like Heaven. I googled at Dad as hard as I could and gave some really big meows; he got the hint. Dad said 'I suppose a little piece won't hurt you'. He held it between his paws – I mean fingers – and I gave it a sniff (actually I gave it about 6 sniffs; I have a little ritual when I'm offered food. I kind of sniff and bow a few times because you can't be too careful when you're a cat. And I'm a cat). Then I licked it and popped it in my mouth. Wow! A very big meow scored me another piece. And one more. Unfortunately I'm only allowed to have cheese as an occasional treat because Mom says that cats probably shouldn't eat too much because it might make us too fat. Personally speaking I'd be happy to run the risk but I haven't figured out how to open the refrigerator.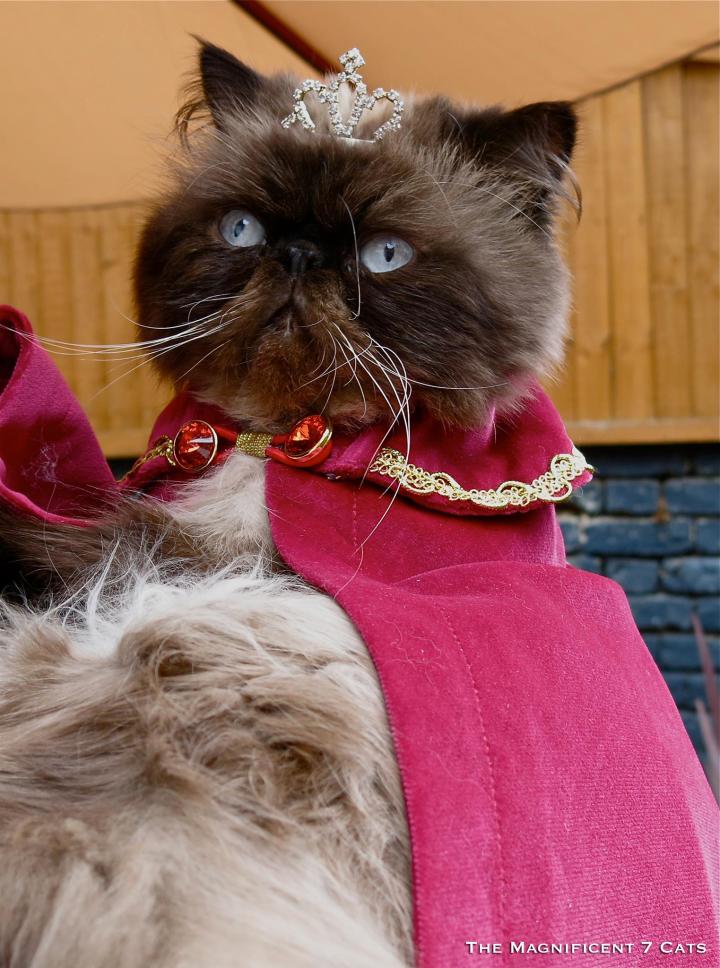 CvC: Do you have a favorite kind of cheese? Any recommendations for what I should serve at my next party?
Tom: Well actually I do. My Dad says that there are hundreds of types of cheese and I think I'd like to try them all. My two favourites are called Cheddar and Red Leicester. They are hard cheeses and not smelly. My Mom gave me something called halloumi but I wasn't really bothered about that. One of my Mag 7 friends lives in somewhere called Wisconsin. I think she said that Wisconsin is made of cheese and that I should live there.
I think for your next party you should serve an English cheese because I am from England and you could tell your friends that Tom the cheese expert recommended it; they would be very impressed. Did I tell you that I'm famous and have my own Facebook page? Oh yes. The Magnificent 7 Page isn't big enough to contain my irresistible charm. I need private space to entertain my ladies! Speaking of entertaining, I think Stinking Bishop would be nice on your cheese board. It would pair quite successfully with a fragrant Gewürztraminer, I imagine.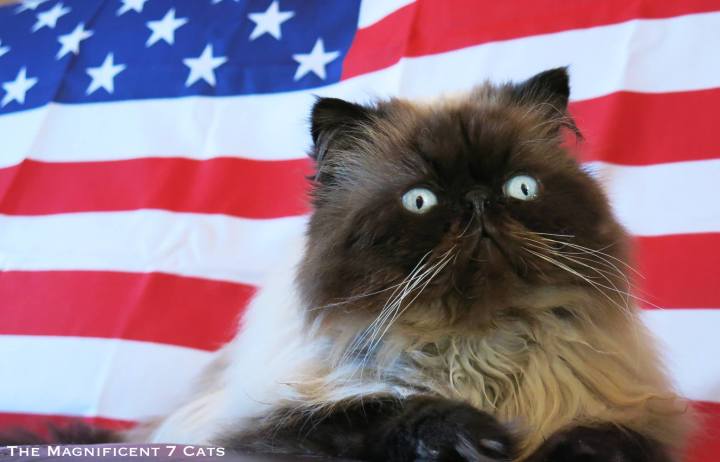 CvC: Many of your You Tube videos label you as "grumpy." Would you agree that you have a grumpy side or are you just misunderstood?
Tom: Mom and Dad do say I look a bit grumpy. Then again, Dad also calls me an idiot so what does he know?! I suppose my face can make me look a bit miserable but I'm not a miserable chap. Famous intellectuals like me can sometimes be a little surly but this is because I have my mind on important matters; humans just don't understand. I've found it helps when I remember to show my little pink lip; I've cultivated an intense-but-approachable look which I think I really rock. Certainly my lovely ladies seem to like it. Wink.
CvC: Fill in the blank…."Of all the Magnificent 7 cats, I'm definitely the __________.
Tom: First to be interviewed. You have impeccable taste!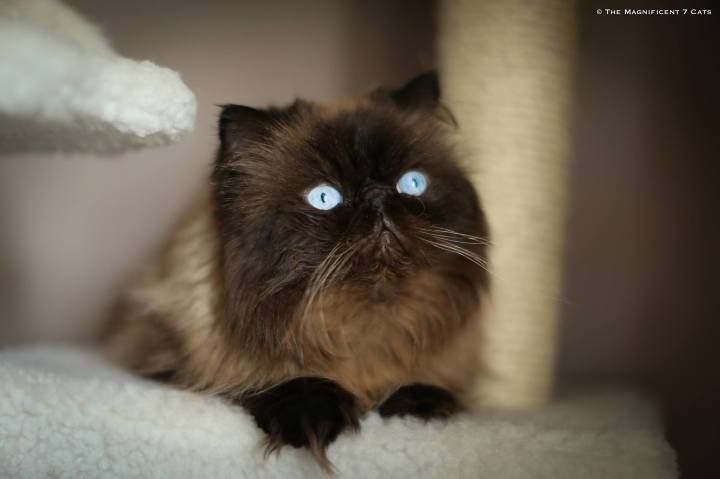 CvC: Anything else you'd like fans to know about you that they might not know already?

Tom: I think I'd like everyone to know that we cats are here on earth to do a very important job. We're here to bring love and kindness to people and to make the world happier, gentler place. I think Jarod Kintz says it best: "Love, you just know it when you feel it. I feel it now, and it's furry and purring."

Thanks to Tom for taking the time to answer our questions! Be sure to check back soon for more interviews with the Magnificent 7 cats, and don't forget to check out their Facebook page here. 

And to see how your time spent here on Cats vs Cancer helps us raise money for some great causes, check out this short video to see how it all works:

[youtube d_8QW0jzsKA]

Tagged